If you have any queries about programme accreditation, please call +49 211 900977-0.
If you have any specific questions regarding institutional accreditation, please contact: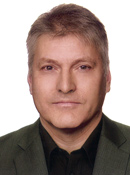 Dr. Iring Wasser
Phone: +49 211 900977-10
gf[at]asiin[dot]de
Institutional Accreditation
ASIIN e. V. offers institutional accreditation procedures as well as institutional accreditation procedures.
While ASIIN's own system seal is available both at national and international level, ASIIN is also entitled to award German higher education institutions with the national seal of the German Accreditation Council.
ASIIN institutional accreditations are guided by two quality concepts:
The content-related quality to be expected from teaching and learning is determined by the higher education institution itself. It also defines the learning outcomes of its programmes and chooses the nature of all quality management. By doing so, it conveys its strategic orientation, profile and relation to the given social context.
The higher education institution includes external requirements owed to the political, legal and socio-economic environment in which it devises and implements its education and/or training programmes. As a consequence, content-related quality is not defined arbitrarily, since its definition process too must meet quality standards: In contrast to economic success (the central standard for quality and quantity-related production objectives of businesses), quality criteria for higher education institutions can only be developed in reference to the effect which the activities of the institution have on society, the economy and education policy making.
Ultimately, the quality of teaching and learning at an institution becomes evident with the results produced by the degree programmes offered.
Therefore, ASIIN institutional accreditation procedures do not look at individual quality assurance initiatives but rather at their systematic total and how they are managed. The institution must therefore apply a quality management system which includes at least the processes adopted in teaching and learning. In addition to documenting the quality management in use for teaching and learning, proof of its effectiveness is required for all accreditations.
Often, the different measures and instruments destined for internal and external quality assessment (e.g. accreditations and evaluations) look at the same process parts or designs within an organisation. Therefore, in many cases the same data and assessment tools can be used for several processes, even though they may aim at different goals and their results may have to be differently weighed. This affords the institution the opportunity to assume the responsibility of directing internal and external quality reviews, accepting the results and including them Institutional Accreditationsystematically in all further strategy planning.
The instruments and processes to be used for quality management purposes are not dictated, in a conscious effort to allow the institution to choose and apply them according to their chosen quality targets.